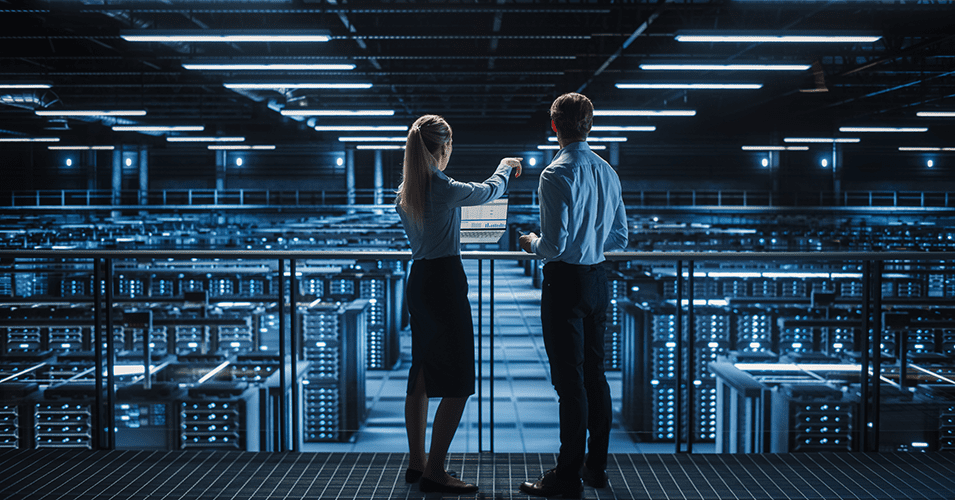 Building a solid data center location strategy is about much more than proximity or convenience. In fact, the strategic choice for your organization may involve picking a data center that's 100 miles away or more. Instead of thinking only about points on a map, we'll cover 10 things businesses should consider when choosing a data center location, which fall into three main categories: Infrastructure, geography, and security.
What to Consider When Choosing a Data Center Location?
When thinking about site selection, businesses should look at the center itself – How has it been constructed, inside and out, to support the data it houses?
Connectivity
A data center that has good connectivity to the internet, as well as other data centers, will ensure that your organization's data can be transferred quickly and predictably. Certain parts of the country have more reliable access to high-speed internet than others. A consistent internet connection with low latency will improve the experience for your end users. If there is a disruption to the primary connection, redundancy through either multiple service providers or through a content delivery network (CDN) can help prevent interruptions to operations.
Businesses should also consider a data center's inter-connectivity with other data centers. An organization that offers a nationwide network of data centers can promise more reliability than one that has sites all within a short distance of one another. Think about what might happen if a power outage hits a metro area, or extreme weather, like a tornado, impacts several nearby towns. Would the data center you choose be able to offer failover to another location that won't be impacted?
Carrier-Neutral Data Center
A carrier-neutral data center provides more options to businesses, who then have the freedom to select their telecommunications provider, which can improve performance and save on costs. Having options to choose the appropriate carrier can give organizations leverage to negotiate contracts or change to a different provider if their current costs are too high. Oftentimes, data centers that are carrier-neutral are also located in areas that have good connectivity, so these factors can go hand-in-hand.
Power
Power is one of the most important elements to consider when choosing a data center. Afterall, power is a necessity in maintaining day-to-day data center operations, as well as keeping things running during disruptions. As such, centers need to have reliable access to power and adequate cooling infrastructure to keep hardware maintained and safe from overheating. When researching data centers, be sure to ask questions around the power grid diversity, price per kilowatt of usage, power efficiency/PUE, generator/UPS capacity and what they use for cooling.
Natural Disasters and Disaster Recovery
Connectivity and power are two pieces that can be affected by natural disasters. However, disasters can also cause flooding, structural damage, and other problems that ultimately disrupt operations and cause data loss. When you're weighing the merits of different data center facilities, ask about or gather information on the following:
The number of natural disasters in a given area, especially over the past 5-10 years: As natural disasters and extreme weather events increase, has the prevalence in that data center's location also increased?
The severity of disasters: If there were a number of natural disasters near the data center, how widespread was the damage? This can also be determined by looking at the financial impacts of recent incidents.
The surrounding infrastructure: What does the power grid look like? Are there mitigation measures in place at the building itself, or in the area, that protect against common natural disasters?
While being shielded or unlikely to experience natural disasters is one side of the coin, the other is how well the data center is equipped to respond to a disaster should one occur. Even if the data center is in an area that experiences little in the way of natural phenomena, there should still be a plan in place to handle the unexpected.
A prepared data center should offer backups, redundancy, and testing for disaster recovery. Backups can help restore data and systems after a disaster. Redundancy is part of connectivity – if a primary location fails, there should be a backup location that can take over. Testing should be done regularly, annually at a minimum, to confirm everything will go as planned in an emergency.
How to Choose a Data Center Site Location
While the physical proximity of a data center to your organization or end users isn't the only thing to factor in when choosing a location, it is still important. There are benefits to having a data center close to your IT team, but there are also benefits to having one in a different region. Data centers closer to end users can improve issues with latency and reliability.
Data Center Location Near Your IT Team
Business leaders often prefer a site close to the home office or wherever their existing IT team sits. The logic makes sense. They want to be able to keep an eye on things and, if using a third-party provider, to be able to meet with their vendor's representatives face-to-face as needed.
However, choosing a data center in the same neighborhood, city, or even region of the country can impact unplanned downtime, as an event such as a power grid outage from a natural disaster can easily affect a large swath of a region. The cost of even one hour of downtime can be tremendous for today's technology and data-dependent businesses. With that, it's important to weigh the benefits and risks of selecting a data center that's within close-proximity to your IT team.
Data Center Location in Another Region
To minimize unplanned downtime, some experts recommend housing business-critical workloads in a data center in a separate geography, preferably one that is less prone to disaster.
While that's sound advice to some extent, there is, unfortunately, no area of the country that is disaster-free. The Midwest is often seen as a preferred location, but while it may not have California's wildfires or the Gulf and East Coasts' hurricanes, it still has its disasters (like flooding, tornados, and thunderstorms).
Roughly 10,000 severe thunderstorms with damaging winds hit the Central US every year, and lightning strikes are a major cause of power outages.
It can seem to be a no-win situation. Choose a data center location close to home and you run the risk of your entire operation going down should you be hit with a regional disaster. On the other hand, choosing a data center located in another city or region requires a great deal of trust with your provider since it's more difficult to visit the physical location of where your data is stored.
Third-party data center operators and cloud providers offer many benefits when compared to on-premises data center infrastructure, such as:
A Data Center Closer to End Users
There are also benefits of having your data center closer to your end-users. Shorter distances and less traffic can have a dramatic effect on latency, especially for applications and data using cloud services. Why? Physical distance is one of the main contributors to latency, and when users are inside a 50-mile radius, latencies drop. The time it takes for the end-user to send a command to the server (and for the server to come back with a response) are in the neighborhood of single-digit milliseconds versus double- or triple-digit milliseconds of round-trip time.
Faster response times can also lead to a better user experience, as users can quickly access the information they need without having to wait for pages or content to load. Additionally, there is typically less traffic on the network when a data center is closer to its end-users, reducing the risk of network congestion and improving overall network performance.
Data Center Location Security Considerations
When deciding which data center is the best fit, IT leaders also need to examine and compare the security measures offered at each location.
Security
There are many facets to security at a data center. First, the center should be physically secure. Outsiders should not have access to the building. Fences, barriers, and security guards should be deterring people from entering. When inside, access should be controlled with key cards and passcodes. The building itself should be protected from fires, floods, and power outages. A location less vulnerable to natural disasters is part of this physical security as well.
The network and data should also be secure. Firewalls, intrusion detection systems, and encryption are methods centers can use to keep your data protected from unauthorized access.
Risk of Downtime
The downtime a data center might experience is related to a number of factors: The redundancy offered, the number of data centers owned by the same organization, the risk of natural disasters, the level of cybersecurity expertise on staff to deal with data breaches or other cybercrime, how structurally sound the data center is, and how much time the staff can dedicate to your particular issues. Considering all of these factors is how you can best evaluate whether a data center is likely to have risks of downtime.
Compliance
Data center staff should be adequately trained, screened for security risks, and up-to-date on the latest regulatory requirements to ensure compliance. These requirements include data privacy under the General Data Protection Regulation (GDPR) in the EU and the California Consumer Privacy Act (CCPA) in the U.S., as well as quality and security standards like HIPAA, ISO, NIST, and SOC.
Leverage TierPoint's National Data Center Footprint and Expertise
At TierPoint, we have a national, geographically diversified data center footprint and the expertise to help you determine the best location for your business data and applications. Learn more about our network of data centers and read our Strategic Guide to Data Center and Colocation.
FAQs
What Makes a Good Location For a Data Center?
Multiple factors determine whether a data center is in a good location. It should be in an area that isn't vulnerable to natural disasters and be structurally sound. The location should be chosen with internal staff and end-users in mind. Expertise inside the data center is just as important, if not more important, than the infrastructure.
How Far Should Data Centers Be Apart?
If an organization is choosing to house data in more than one data center, choosing facilities that are far enough apart means selecting centers that are not prone to the same kind of extreme weather conditions – fires, tornadoes, hurricanes, earthquakes, and so on. While there's no hard or fast requirement, 100 miles is a good rule of thumb.
How Do You Develop a Data Center Strategy?
A thorough data center strategy will take physical, geographical, and security considerations into account.
Why Does Data Center Location Matter?
Choosing the wrong data center location can mean data vulnerability, downtime, lost revenue, and decreased trust from customers and other stakeholders. Taking the time to choose the right location and build a data center location strategy can save businesses from headaches or irreversible damage down the road.