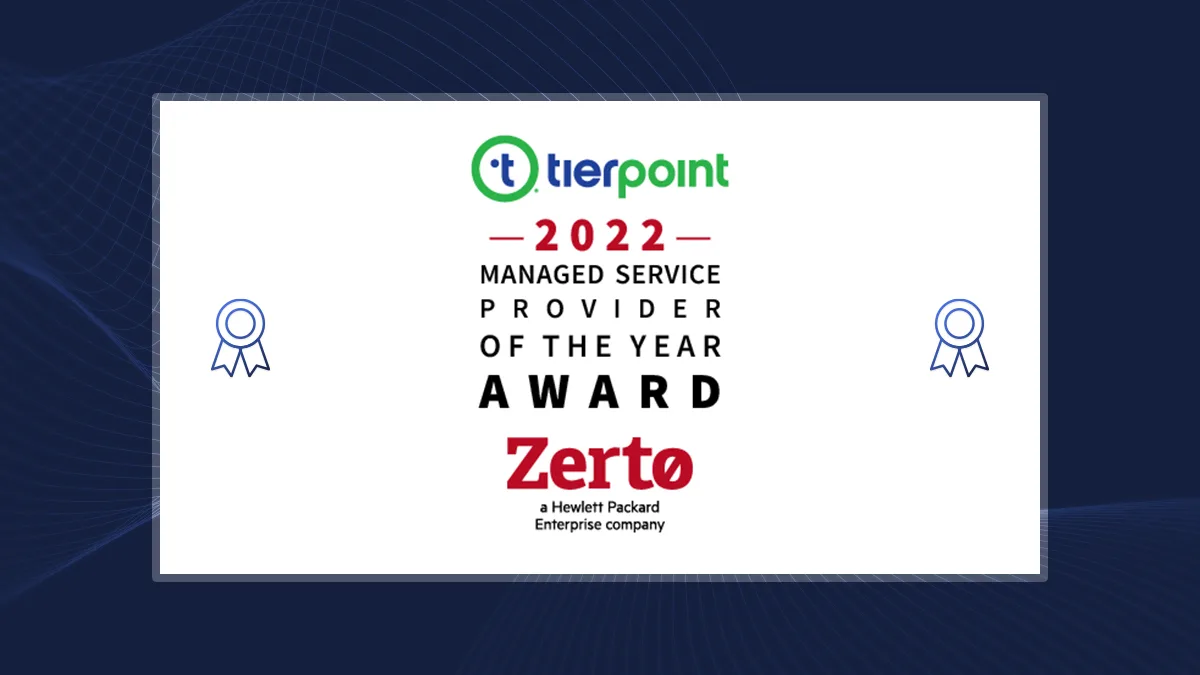 TierPoint Wins ZertoCON "2022 MSP of the Year" for DRaaS Solution
Zerto, a Hewlett Packard Enterprise company, announced its 2022 Partner of the year awards at their partner advisory board. The award winners are key standouts for contributions to the Zerto partnership program. Awards are based on a partner's ability to deliver high-quality, innovative solutions. Solutions should focus on the customer's needs, like the protection, recovery, and mobility of on-premises and cloud applications.
For the second year in a row, Zerto has named TierPoint as the "Managed Service Provider (MSP) of the Year". This award recognizes TierPoint's Disaster Recovery as a Service (DRaaS) solution for protecting virtualized workloads from data loss and downtime. The solution offers a variety of configurations with failover to private, multicloud, and public cloud services in the event of a disaster. TierPoint delivered significant revenue growth over the past year and grew the number of Zerto-protected virtual machines (VMs) by more than two million instances.
TierPoint and Zerto's long-standing, cooperative relationship has resulted in numerous successful joint customer wins and marketing efforts. The TierPoint team appreciates the knowledge Zerto's cloud architects and sales teams bring and looks forward to another successful year of collaboration and success.
TierPoint's Focus on Enabling Business Continuity and Disaster Recovery
Disruptions come in many forms. At TierPoint, we understand businesses need to be ready to handle those disruptions and ensure business continuity. TierPoint offers solutions that minimize data loss and downtime, house infrastructure in diverse geographies across the U.S., ensure solutions meet low RPO and RTO requirements and create a strategy around resilience to combat vulnerable workloads and ransomware attacks. They do this with a combination of Disaster Recovery as a Service (DRaaS), Data Center, and cloud services.
Disaster Recovery as a Service (powered by Zerto)
Cloud-based disaster recovery is among the fastest-growing cloud services, and DRaaS enables recovery of your data, applications, and infrastructure – all within minutes. TierPoint's Cloud to Cloud Recovery (DRaaS) solution flexibly fits your unique mix of recovery time objective (RTO), recovery point objective (RPO), production environment, and recovery environment requirements.
Data Center Services
In combination with DRaaS, TierPoint offers backup solutions in its over 40 data centers across the United States. Because these data centers are geographically diverse, customers get additional resilience from natural disasters. Read why data center location matters.
Hybrid IT and Cloud Services
The cloud has many benefits over traditional on-premises disaster recovery. Learn why disaster in the cloud is better than the alternatives. Our agnostic approach to the cloud enables us to manage your recovery and production workloads.
A complimentary playbook on overcoming business continuity challenges
Does your organization have a business continuity strategy? If so, does it account for more than one disaster? A great BC plan should account for various challenges and a roadmap to get your business operations back to normal. Download this complimentary eBook, The Ultimate Guide to Running Your Business Through Uncertainty and Disruption, to learn why you should make business continuity a top priority and how to overcome some of the biggest challenges.