August 25, 2023 | Matt Pacheco
Data Center Disaster Recovery: Essential Steps and Strategy
Whether you manage your own data center or work with a provider, data center disaster recovery is an essential part of managing your systems. Data centers can experience outages from natural disasters, power outages, fires, or cyberattacks. Without a plan that prioritizes your most important systems and recovery steps, you could experience disruptions and downtime that can be catastrophic for your business. We'll talk about what is included in a data center disaster recovery plan, why it's important in the first place and three essential pieces you'll want in your strategy.
What is a Data Center Disaster Recovery Plan?
When a disaster hits, a data center disaster recovery plan (DRP) lays out the necessary steps to recover data and get business operations back to normal. The plan can include information on critical data and systems, identification of potential threats and how to handle them, preventative measures to avoid disasters, and action plans for when the unexpected happens.
Why Do You Need Data Center Disaster Recovery?
Without a plan for data center disaster recovery, you leave your organization at risk of unnecessary downtime, irretrievable data, or even decreased trust in your business.

A well-designed data center disaster recovery plan can keep downtime to a minimum, protect your data, and improve business continuity. Plus, depending on regulatory requirements, it may be mandatory for your business to create a DRP.
How Far Apart Should Data Centers Be for Disaster Recovery?
One part of your disaster recovery planning may involve determining the ideal geographical locations for your data centers. If you are able to spread out your workloads to reside in more than one data center, you can have a location for "failback" – allowing your systems to switch over to the backup data center if the primary site goes down from a natural disaster or other incident.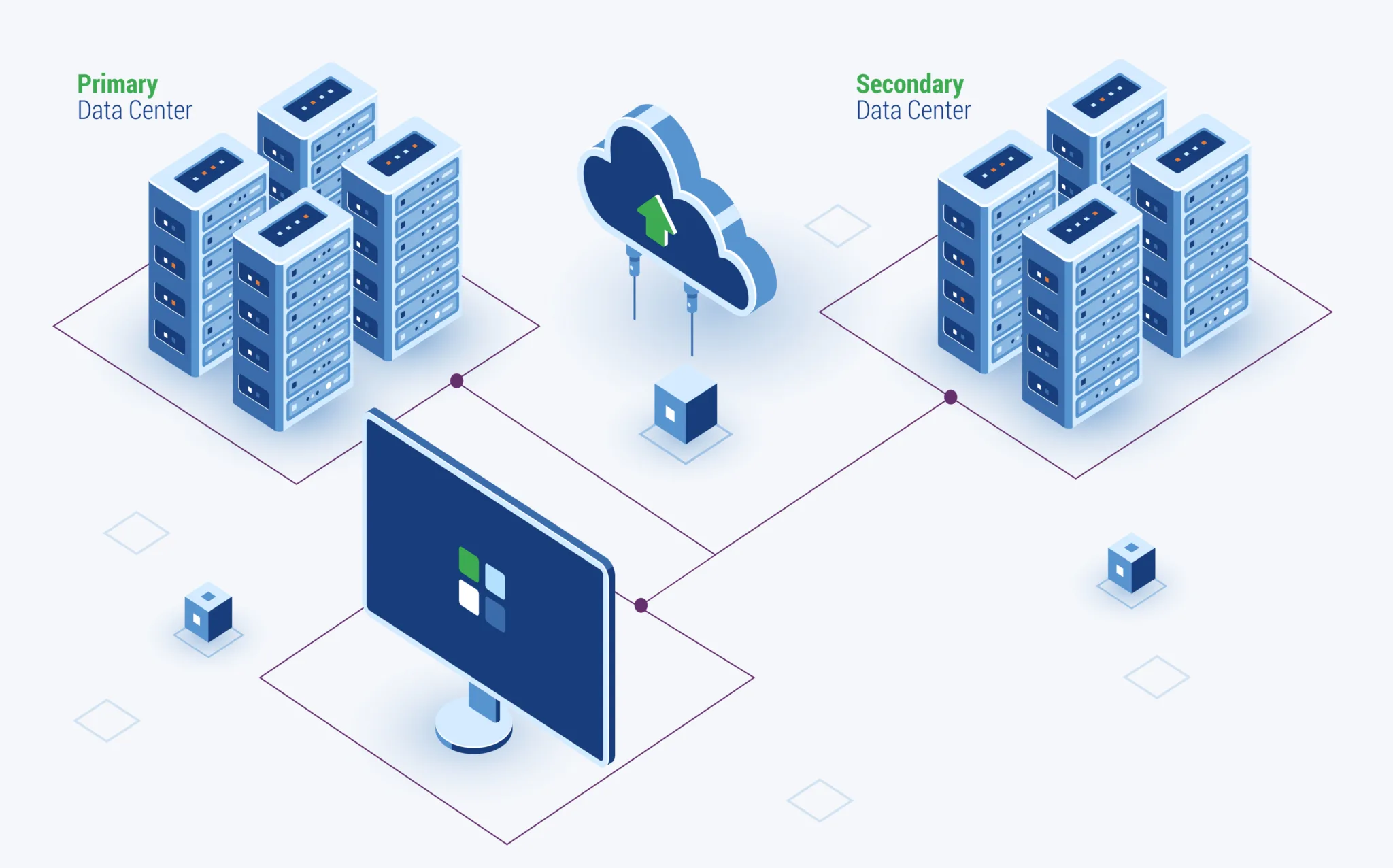 For disaster recovery, you'd want your data centers to be far enough away that a natural disaster or major outage is not likely to affect both facilities simultaneously. There is no hard or fast rule for this, but a good guideline is to make sure the centers are at least 100 miles apart.
Ensure Uptime with a Data Center Disaster Recovery Plan
A data center DR plan can improve uptime in a few ways. Generally, a plan will include the protocol for multiple backups – perhaps a primary data center and a secondary site, or a plan for both on-premises and off-premises backups.
Preparing for data center disaster recovery also means gaining a better understanding of the risks that may negatively impact uptime, for example, for some enterprise organizations could see a total loss of $5 million per hour in unexpected downtime. This may also include planning a switch to an alternative site, figuring out how to remedy damaged equipment, and assigning roles to address those risks.
Building an Effective Data Center Disaster Recovery Strategy
An effective data center disaster recovery strategy needs to consider which business operations are most critical, how much downtime a business can withstand, and how much data can be lost without significant consequences. These can be defined using a business impact analysis and identifying the recovery time objectives (RTO) and recovery point objectives (RPO).
Business Impact Analysis
In a business impact analysis, an organization identifies the systems and data that are critical to business operations and need to be protected during a disaster. This can help prioritize redundancies and data resiliency, determine what resources need to be used to protect workloads and assign responsibilities in a disaster based on the impact on the business.
Recovery Time Objective (RTO)
The goal for the amount of time it takes to restore systems after they are disrupted is conveyed as an RTO. This is the maximum amount of time a business can go without its critical systems and data. Some businesses can survive without their systems for longer than others. For example, retail businesses and smaller businesses can normally go a bit longer with downtime compared to financial institutions or busy e-commerce businesses.
Recovery Point Objective (RPO)
Some businesses can afford to lose a day's worth of data, while others can't sacrifice more than a few minutes. An RPO is a goal measured by the maximum amount of data an organization can stand to lose. This may be expressed in minutes, hours, or days depending on the type of data and the nature of the business.
Data Center Disaster Recovery Testing
If and when a disaster strikes, you want to be sure that your recovery plans are operational. Testing can help you identify gaps in your planning, train the disaster recovery team on what to do in a real scenario, and ensure everything is up-to-date. Full-scale testing should be done at least once a year.
How to Choose a Data Center with Disaster Recovery in Mind
Choosing a data center that prioritizes disaster recovery and business continuity within their SLAs will help you be better prepared for whatever's down the road. TierPoint's 40 interconnected data centers provide easy redundancy through the duplication of critical components and geographically diverse facilities. Our security experts can help you form a data center DR plan, as well as provide 24/7/365 support for your systems.
Need help building a comprehensive recovery plan? Download our infographic to discover the 13 key items that lead to resilient DR plans.